Choose your mattress size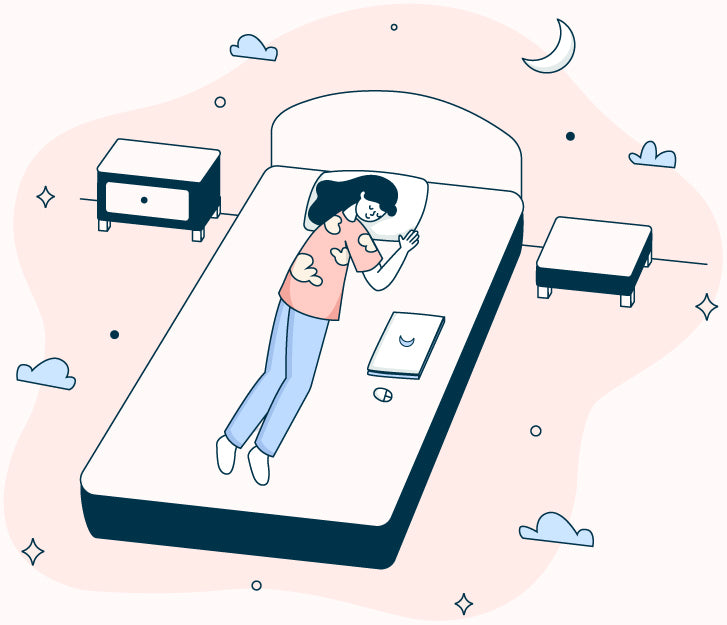 A mattress that fits, fits the space and needs will help you sleep comfortably: you certainly don't want to buy a mattress of the wrong size and find… your legs are hanging at the end of the bed. !
The two simple questions below will help you find the right mattress size for you and your family:
1. Who will sleep on this mattress?
The right mattress size for you is...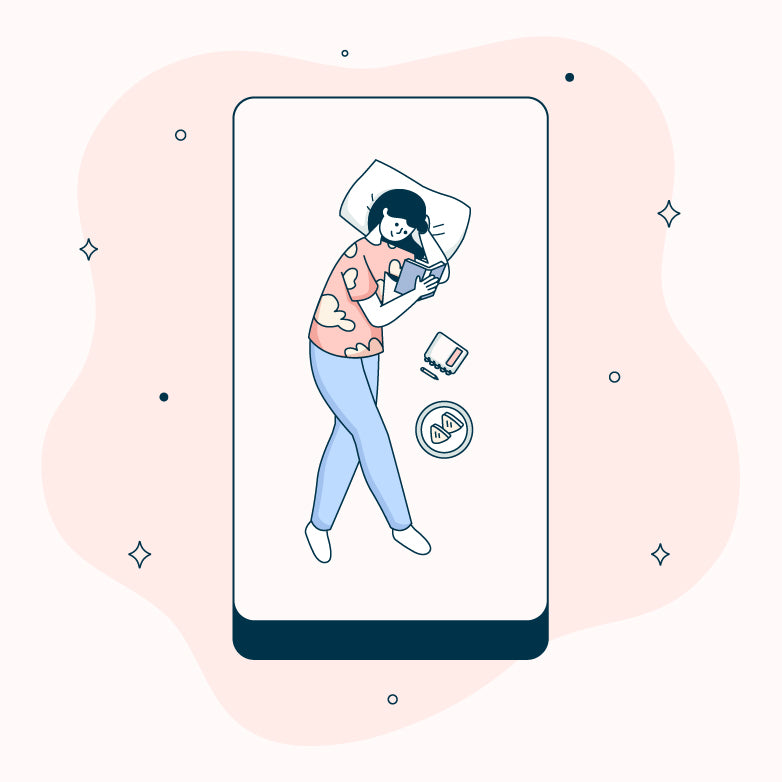 SINGLE Mattress 1m2 x 2m
SPACE SAVING
SINGLE mattresses are commonly used in student dormitories or bedrooms with a modest area (about 6m² - 8m²), helping to optimize space but still ensure a comfortable sleep. This is the most common 1-person mattress size .
Mattress size suitable for: bunk beds, small rooms; Children, adults sleep alone.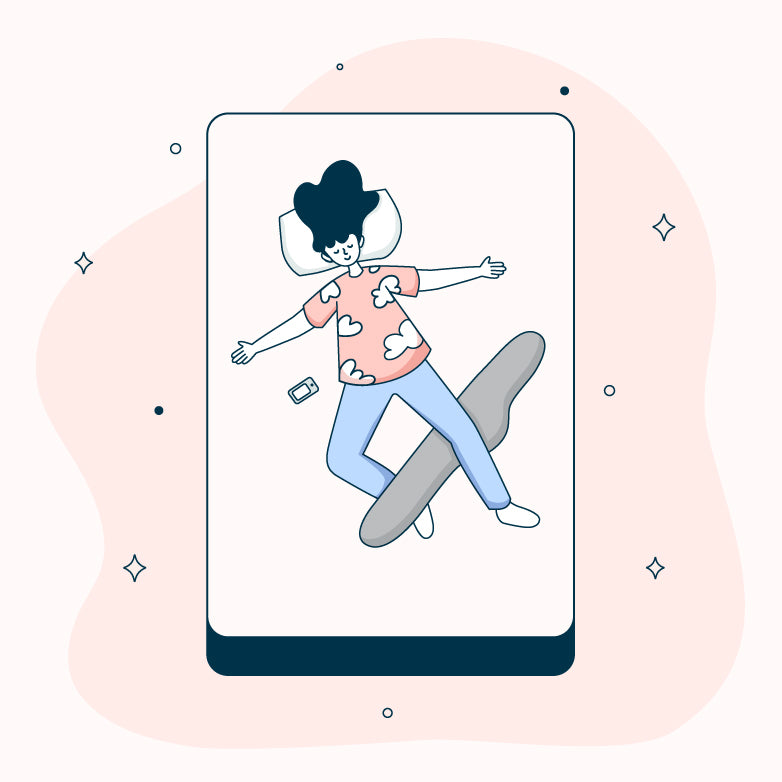 FULL mattress 1m4 x 2m
COMFORTABLE ALONE
1m4 x 2m FULL mattress is the ideal choice for small bedrooms, studio apartments (about 8m2 - 10m2), enough space for one person to lie down comfortably, suitable for guest bedroom. Although the mattress size is small, you can absolutely choose a high-quality mattress to ensure a comfortable sleep.
Mattress size suitable for: medium room; People who sleep alone want to lie down comfortably.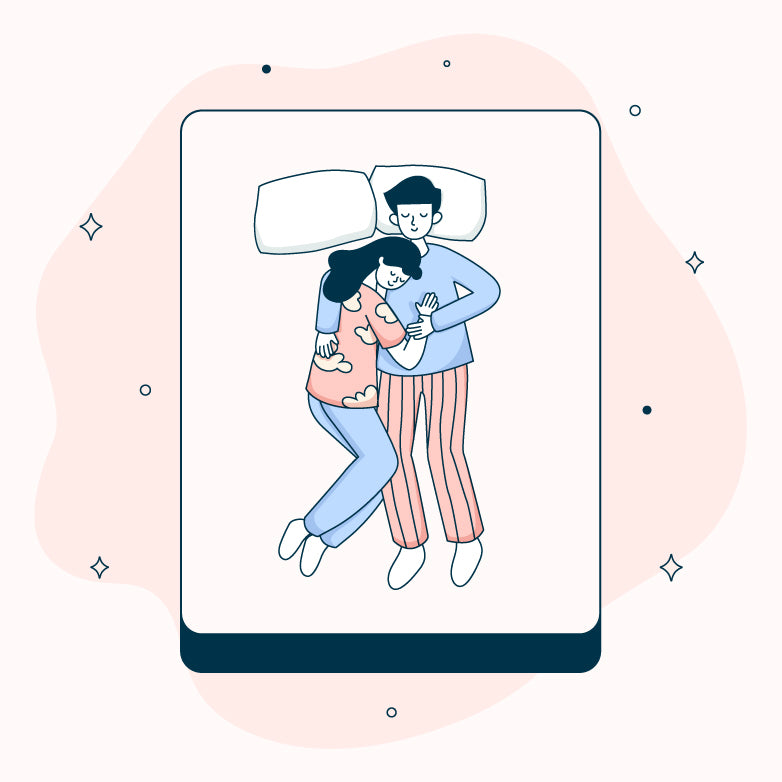 QUEEN Mattress 1m6 x 2m
HAPPY HAPPY JOIN
The 1m6 x 2m QUEEN mattress is a commonly used mattress in Vietnamese families today, in line with the traditional bed design. Queen mattress is the perfect choice for couples, or solo sleepers who like to lie comfortably. The size of the mattress is just enough to lie comfortably without taking up a lot of space in the bedroom.
Mattress size suitable for: medium room; Couples or people sleeping alone prefer spacious.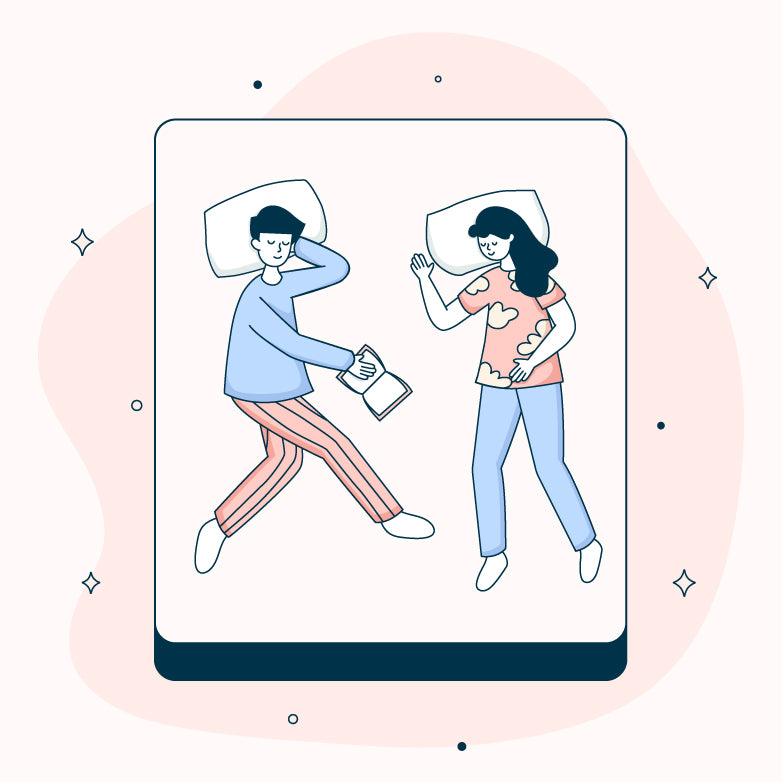 KING Mattress 1m8 x 2m
FRIENDLY FAMILY FUN
KING 1m8 x 2m mattress is the first choice for families with spacious bedrooms. If you share a bed with someone who sleeps restlessly, often tosses, turns, etc., a KING size mattress will ensure that each person lying on the mattress has a comfortable space for themselves, but still not disturb the sleep of the person next to you.
The mattress size is suitable for: large but short bedrooms, couples who want their own space on the mattress or couples sleeping with babies.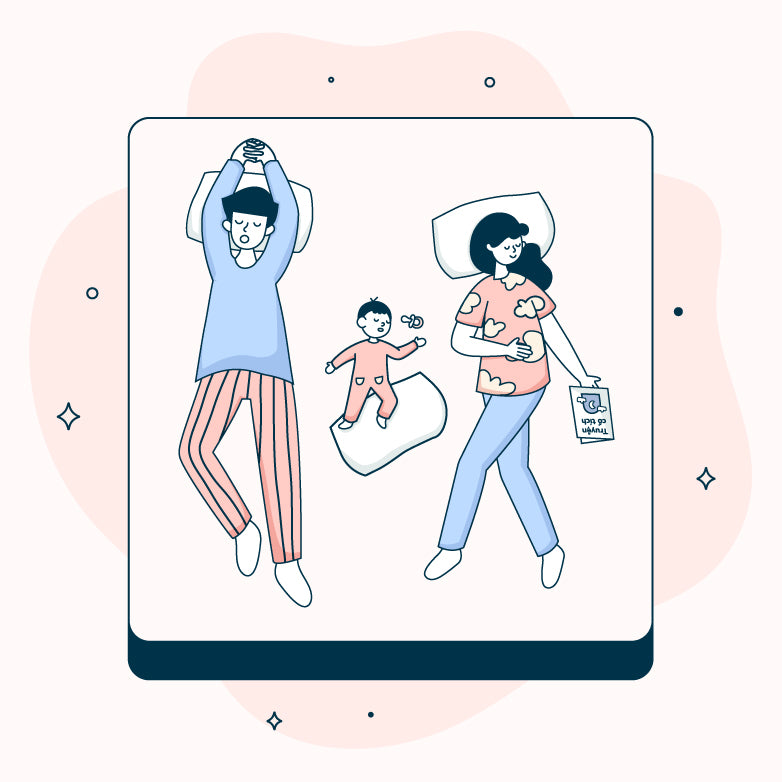 SQUARE KING Mattress 2m x 2m
COMPLETELY COMFORTABLE
The SQUARE KING mattress has a square shape, optimized in length (20cm more than the KING mattress), especially suitable for people with a higher than average height. Like the King mattress, the Square King mattress size is common in large bedrooms, but the couple can be more comfortable when changing sleeping positions, stretching, or when the pet sleeps at the feet.
The mattress size is suitable for: large bedrooms; couples want comfort in length; Couple sleeping with baby.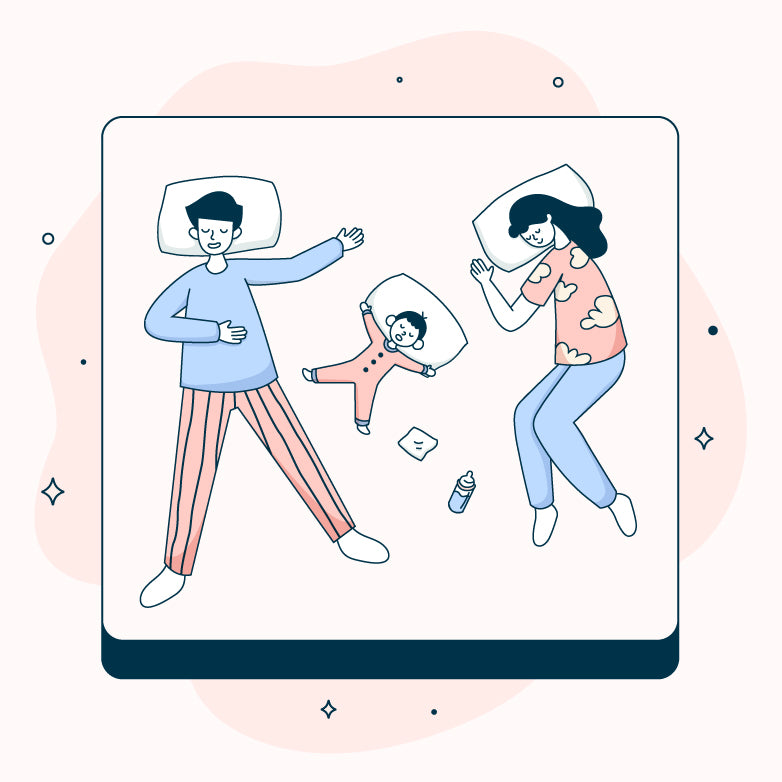 SUPER KING Mattress 2m2 x 2m
HAPPY SUMMARY
The 2m x 2m2 SUPER KING mattress is the largest size mattress, suitable for large bedrooms, making your space more luxurious. You can turn, stretch your legs without disturbing the person next to you; If you sleep with a baby or pet, everyone will feel comfortable on this mattress.
The mattress size is suitable for: large bedrooms; suitable for families with children.
Mattress size comparison table in different regions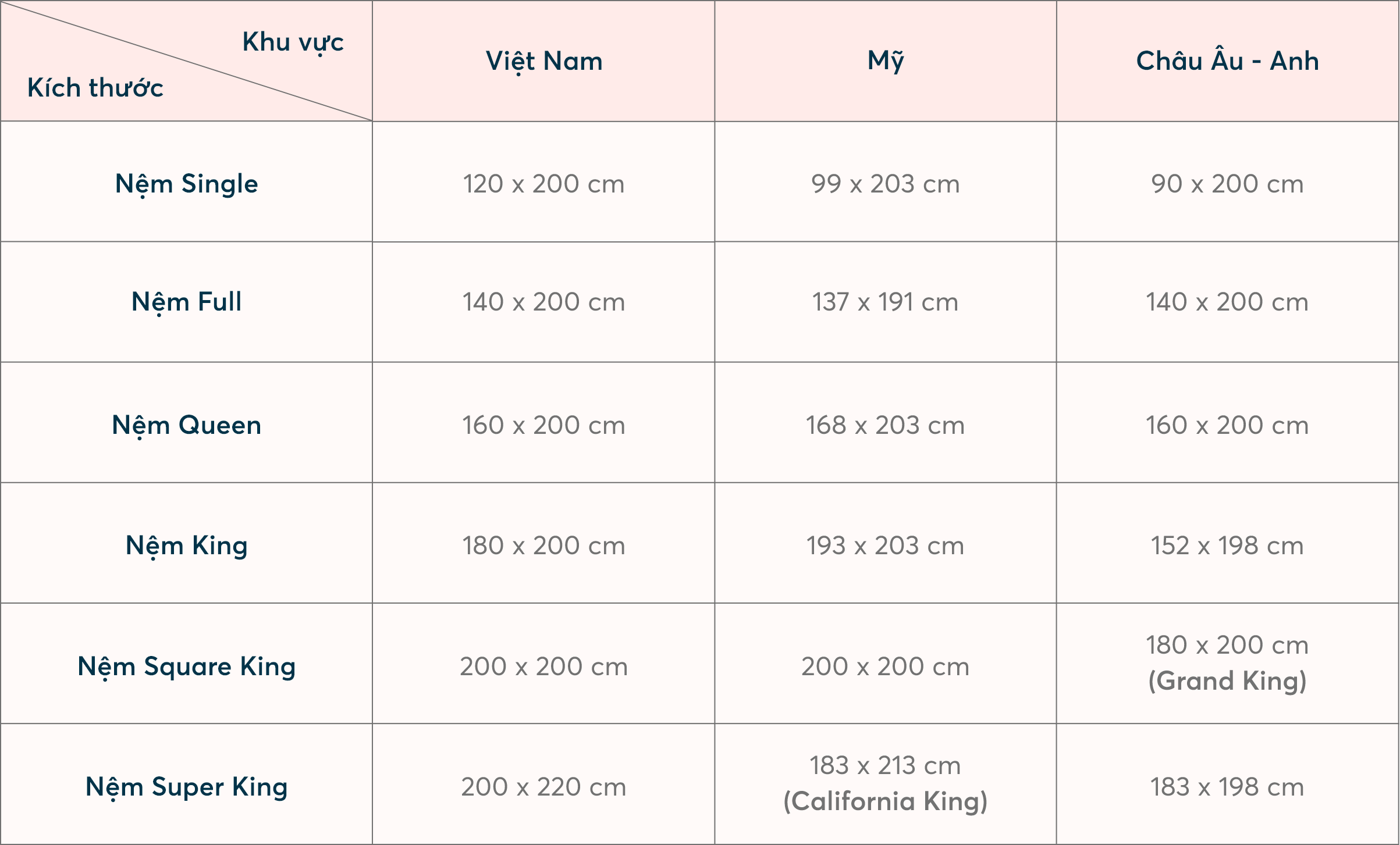 frequently asked Questions
Is a 1m4 mattress enough for two people to lie down?
The Full mattress is 1m4 in width and 2m in length, about halfway between a Single mattress and a Queen size mattress. 1m4 mattress can fit 2 people. The two of you will have about 13cm of distance between you and your bedmate, just enough for both of you to be comfortable. However, if you like to be spacious, you should choose a larger mattress size such as Queen 1m6 mattress.
Based on your budget and sleeping position to consider choosing a size of 1m4 for 2 people to sleep.
How is the mattress size 1m4 and 1m6 different?
Full mattress and Queen mattress are the 2 most popular sizes for bedrooms.
Full mattress has a size of 1m4 x 2m, Queen mattress is more comfortable in width with a size of 1m6 x 2m
Full mattress is suitable for people who want to sleep alone and spacious, couples who want to be close to each other in sleep, or for the living room.
Queen mattress is ideal for those who like to sleep spaciously, with lots of space.
Is there a mattress larger than 2m x 2m2?
On the market currently, Super King size mattress 2m x 2m2 is the largest size. However, you can completely contact the mattress company to order a larger mattress size to suit your needs.
How to buy the right mattress for your bed size?
To buy the right mattress size, you need to keep the following in mind:

1/ Measure the exact bed size:
- Length: from the head of the bed to the foot of the bed
- Width: from left to right

2/ Note if the bed has a bed frame: it is necessary to start measuring from the bottom of the bed frame. Estimate the desired height of the mattress.

3/ It is recommended to use a tape measure, repeat 3 times to be sure.

4/ Chat with sales staff for specific advice.
How to measure the correct mattress size?
To measure the correct mattress size, use a tape measure to measure the following mattress dimensions:
- Length: from top to bottom of mattress
- Width: from left to right
- Height: from the bottom bottom to the mattress surface

Repeat 3 times if necessary. After you have the measurements of the mattress, you can easily name the mattress size to make a decision to buy bedroom accessories such as bed sheets, mattress protectors, etc.
Is there a mattress size less than 1m2?
Single mattress 1m2 x 2m is the smallest size on the market today.
You can absolutely contact the mattress company to order a smaller size option to meet your needs. With a very small size mattress, you should pay attention to choose a high-quality mattress and consider the width of the mattress for the most comfortable sleep.
Ru9 mattress with a variety of sizes
suitable for any living space
and your sleeping habits.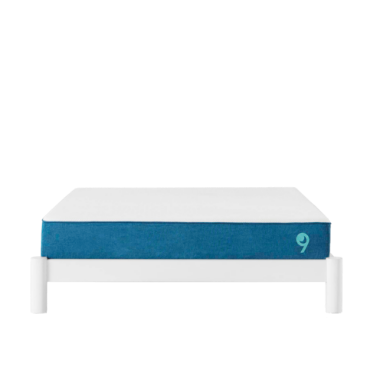 Ru9 Original Mattress
Full support for the spine and body, for a perfect night's sleep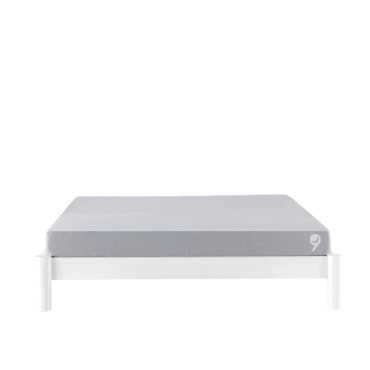 Nest by Ru9 . mattress
An essential starting point for every good night's sleep