Peace of mind with superior service

100 nights of risk-free sleep
If you are not satisfied, we will take back the mattress and refund 100%.

Free shipping on orders over 1,500,000đ
You don't have to worry about stuffing your mattress back in the bin.

Long term warranty
Ru9's mattress is always smooth and durable with time.
Customer reviews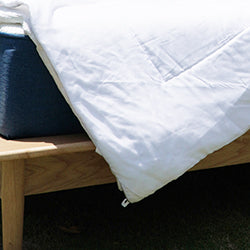 This is the first time I have bought such a thin and light blanket. Immerse yourself in the feeling of being floating.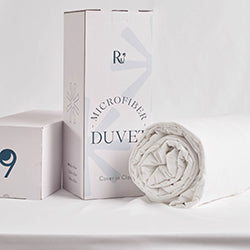 Ru9 blankets can be used in any season. Compact and easy to clean as well.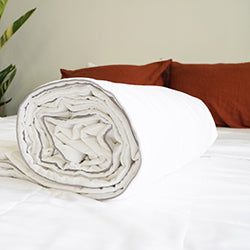 I searched forever and finally found a suitable blanket at Ru9, which is compact but still warm and fluffy, and sleep is better.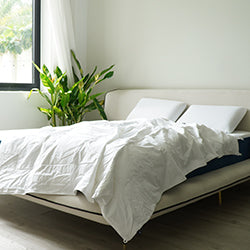 I bought a Microfiber blanket when I went to Ru9's showroom, the experience with the product made me quite impressed when the blanket was quite soft, the feeling is true to the sentence of curling up in the clouds because it keeps floating.
frequently asked Questions
Ru9 understands that, just 20-30 minutes at the store can't give you the full feeling of a product that will stick with you for many years. Therefore, Ru9's 100-night trial will allow customers to try and experience Ru9's products right in their bedroom. And if you don't feel completely satisfied for any reason, you can return the product and receive a full refund, equal to the amount you paid minus the return fee.
Ru9 offers free shipping nationwide for orders over 1,500,000 VND.
For Ru9 mattresses specifically, if customers want to exchange the size within the first 100 nights, Ru9 will charge a shipping fee of 300,000 VND/product for customers in Ho Chi Minh City and Hanoi, and 500,000 VND/product for customers in other areas. The exact fee will be communicated based on the specific address.
Ru9 offers free standard shipping nationwide, with the following details:
In the inner cities of Hanoi and Ho Chi Minh City: within 2 business days
In the surrounding areas of Ho Chi Minh City and Hanoi: within 2-3 business days
In the outer cities: within 4 to 5 business days
Notes:
Orders are prioritized for delivery during working hours. We do not support delivery on Sundays and public holidays as regulated by the State.
For more details, please refer to our Shipping Policy.
LEARN THE PRODUCTION PROCESS OF eucalyptus yarn
Eucalyptus is often described as a sustainable alternative to conventional cotton, but how is it made and how sustainable is it overall in terms of its impact on people, the planet and animals? Let's find out with Ru9 now!
Wood pulp from the eucalyptus tree is dissolved, spun, and then woven together to create a strong and incredibly smooth fabric. To produce this fabric, the bark of the eucalyptus tree will be preliminarily processed and ground into a powder, then spun into fibers using nanotechnology to create absolute safety and friendliness for the health of the user.
The production process is a closed cycle process, more than 99% of the water and solvents used in this process are collected and reused.
With plant origin from the forests to the fabric production process:
Step 1: Wood taken from the eucalyptus forest

Step 2: Wooden body

Step 3: Wood chips

Step 4: Pulp

Step 5: Yarn

Step 6: Apply to the sleep industry
DO YOU KNOW?
Soft choice for you, "gentle" for the Earth
Eucalyptus blankets are 2 times softer, 3 times more breathable, 10 times more eco-friendly, 70% more hygroscopic and use 50% less water than conventional blankets.
Environmentally friendly and user-friendly - healthy choice for a good night's sleep
Eucalyptus fiber helps to maintain the balance of the environment by integrating into nature's cycle, is certified compostable and biodegradable, so it is completely possible to return to nature.
Minimizes night sweats and potentially prevents breakouts from appearing on the skin. Besides, it is delicately designed with 3 layers to prevent the spillage of cotton fibers and is friendly to the body when directly exposed for a long time.
The fabric is produced from the wood pulp of the eucalyptus tree in a closed process that does not waste water, along with the ability to biodegrade . Up to 20% less water, no pesticides or synthetic solvents used in the manufacturing process.
When you choose eucalyptus fiber products, you are not only enjoying the benefits of a naturally derived fiber, you are also influencing a better tomorrow and can be assured that your choice their choice does not contribute to an adverse impact on the environment.
LEARN WHAT IS MICROFIBER MATERIAL?
Microfiber is a moisture-wicking, breathable and durable fabric made from polyester fibers that are finer than silk. And is composed of fine weaves made from wood pulp, polyester polymers or nylon. As a synthetic fabric, microfiber is less likely to wrinkle or shrink compared to all-natural fabrics like cotton.
The weave of the microfiber sheet affects its durability and quality. Microfiber sheets with a flat weave are highly durable, stain resistant and repel moisture. In contrast, microfiber sheets with low woven density have a high ability to absorb heat and retain heat.
DO YOU KNOW?
According to experiments on the performance of microfiber materials, the fiber surface is capable of limiting up to 98% of bacteria and 93% of harmful viruses while products made from ordinary materials only reach 30% of bacteria and 23 % virus.

Microfiber material

is quite popular in hospitals thanks to its ability to remove up to 99% of bacteria while products from other common materials only remove 30% of bacteria.