Peace of mind with superior service

Free shipping on orders over 1,500,000đ
You don't have to worry about stuffing your mattress back in the bin.

Long term warranty
Ru9's mattress is always smooth and durable with time.
Customer reviews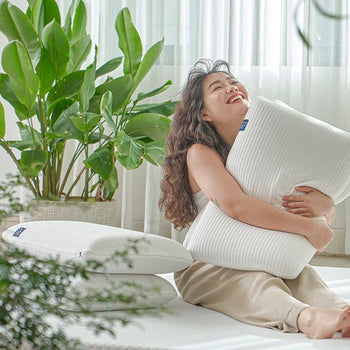 At first, I found the pillow shape a bit funny, but after trying it, it makes sense. I have to try hugging it to see how much it likes it, now I'm not afraid of a cold stomach anymore!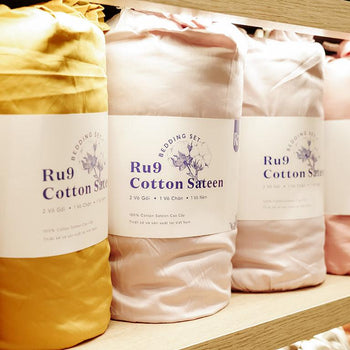 I was curious about the shape of the pillow when I was at the store, when I tried it on, I liked it so much that I decided to buy it even though I didn't intend to 😅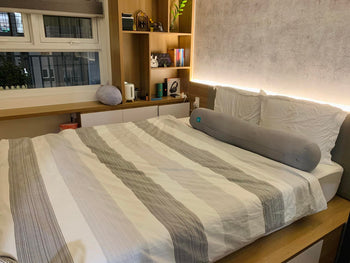 As the name suggests, my head feels well supported, it's not too high, it's not too low, the whole pillow seems to embrace and cherish my entire head during sleep.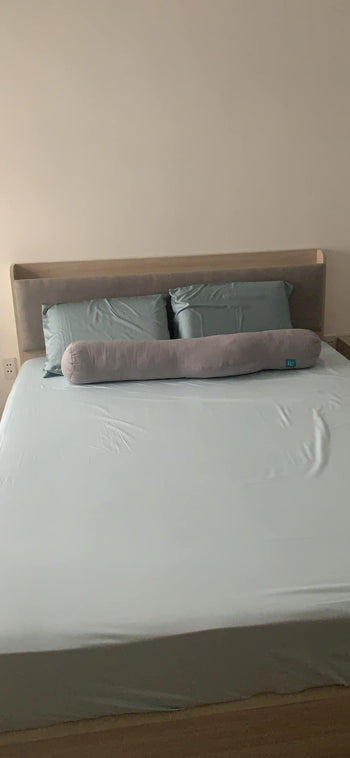 Highly recommend for anyone who is suffering from neck and shoulder pain. I've tried a lot of neck pillows before, but none have been as effective as this one.
frequently asked Questions
Ru9 understands that, just 20-30 minutes at the store can't give you the full feeling of a product that will stick with you for many years. Therefore, Ru9's 100-night trial will allow customers to try and experience Ru9's products right in their bedroom. And if you don't feel completely satisfied for any reason, you can return the product and receive a full refund, equal to the amount you paid minus the return fee.
Ru9 offers free shipping nationwide for orders over 1,500,000 VND.
For Ru9 mattresses specifically, if customers want to exchange the size within the first 100 nights, Ru9 will charge a shipping fee of 300,000 VND/product for customers in Ho Chi Minh City and Hanoi, and 500,000 VND/product for customers in other areas. The exact fee will be communicated based on the specific address.
Ru9 offers free standard shipping nationwide, with the following details:
In the inner cities of Hanoi and Ho Chi Minh City: within 2 business days
In the surrounding areas of Ho Chi Minh City and Hanoi: within 2-3 business days
In the outer cities: within 4 to 5 business days
Notes:
Orders are prioritized for delivery during working hours. We do not support delivery on Sundays and public holidays as regulated by the State.
For more details, please refer to our Shipping Policy.
Experience choosing to buy pillows you need to know
To buy the right pillow, you need to note some important experiences as follows:
Needs to use: Pillows are items that come into contact with our body every night. Therefore, you should buy a pillow that meets the needs of maximum use. For example, if you love softness and good elasticity, you should choose rattan pillows, foam pillows, ...
Suitable sleeping position: The right thickness of the pillow will help you sleep more comfortably. In addition, choosing the right pillow for your sleeping position also helps to protect your neck, shoulders, and neck optimally, avoiding the feeling of fatigue after waking up.
Quality: Pillows are manufactured from benign raw materials with clear origin that will ensure safety for users' health.
Pillow style: A pillow with a suitable design not only helps to add aesthetics to the bedroom space, but also supports a good, full night's sleep.
Pillow size: The current pillow size is quite diverse. Therefore, when buying a pillow, you should specify the target audience and choose the most suitable size pillow.
Price: One of the factors you should not ignore when buying a pillow is the price. You can refer to different types of pillows from many brands to choose the most suitable pillow.
Popular types of pillows on the market today
On the market today, there are many types of pillows with all designs, features, and prices. Here are some suggestions for you to consider:
Latex pillow: Latex pillow has a smart design including thousands of small air holes, providing a soft and smooth feeling when lying down. In addition, using a rubber pillow also supports the neck, shoulder and neck area comprehensively, thereby helping to reduce the feeling of fatigue after waking up. The price of latex pillows is quite diverse, from a few hundred thousand to a million, you can consider based on your family's economic conditions.
Feather pillows: Feather pillows are made from the feathers of poultry such as ducks, geese, and chickens. Feathers after being cleaned and deodorized will be put into pillow production. Feather pillows have good softness, light weight, thereby helping to protect sleep every night. Feather pillows belong to the high-end pillow segment, with prices ranging from medium to high, even up to several million dong.
Foam pillows: Foam pillows are manufactured from high-quality materials, with good elasticity, creating a feeling of comfort and relaxation for users. In particular, the foam pillow is designed with a natural curve, helping to perfectly support the head and neck area, helping users sleep well all night long. With the above outstanding features, foam pillows are now also classified as expensive pillows.
Rattan pillows: Rattan pillows are manufactured from environmentally friendly materials, safe for consumers' health. This pillow has mineral properties, suitable for use in summer and elderly people. The price of rattan pillows is quite cheap, only from a few dozen to a few hundred thousand a piece.
Which pillow is good for sleep?
Each type of pillow will be suitable for different users. For example, the elderly, people with bone and joint problems are suitable for sleeping pillows of the right height. Pregnant women who are prone to spinal pain should use more pillows,... Here are some tips to buy pillows you should save:
Pillow
A good sleeping pillow needs to meet the following criteria:
Pillow design: Sleeping pillows should not be too thick or too thin to ensure optimal neck and shoulder support. Accordingly, the most ideal height of a sleeping pillow is about 12-14cm. This height will create a smooth and comfortable feeling for the user when resting.
Sleeping position: According to experts, people who have a habit of lying on their back should choose a low or medium pillow, which can be concave in the middle to support the head. For those who like to lie on their side, they should choose a pillow of medium thickness to keep their neck in a stable and comfortable position.
Depending on health: People with low blood pressure should choose a thin pillow to support blood circulation. For people with long-term neck pain, they should buy a long, soft sleeping pillow to reduce uncomfortable pain.
Pillow
In addition to sleeping pillows, hugging pillows are also popular products today. Here is the experience of buying a hug pillow:
Material: Hugging pillows are manufactured from soft materials such as foam, cotton, feathers, ... will be the right choice to keep the body warm during rest. In particular, the material for the production of hugging pillows needs to have a clear origin to ensure safety for health.
Size of the pillow: In addition to the material, the pillow needs to be the right size for the body. The standard pillow size is a pillow with a length that feels comfortable for the user, especially when resting.
Suitable for use: Not only sleeping pillows, but hugging pillows also need to be suitable and meet the needs of the user. Currently on the market there are countless types of hug pillows with all designs and prices such as cylindrical pillows, rectangular pillows, U-pillows, J-pillows, C-pillows, etc. You should consult carefully to choose Choose the best pillow for your intended use.
About Ru9 Foam Pillow
If you are wondering which pillow to choose and buy for your family, then the great suggestions below of Ru9 will definitely be very helpful to you.
New Year's Sleep Pillow
According to shares from many people, pillows are made from pressed cotton or feathers to create buoyancy but are easily flattened during use. To overcome this drawback, Niu Ru9 pillow was born as a comprehensive solution for a good night's sleep.
Niu pillow is made from durable Graphene Memory Foam material. Along with that, the Niu pillow has a height of 12cm, suitable for the average body of Asians, thereby providing perfect support for the head, neck, and shoulders.
Besides, during rest, the head is the area that radiates a lot of heat on the body. This greatly affects the quality of your sleep. Niu pillow inserts apply Graphene technology with optimal heat dissipation, keeping the head and neck cool and comfortable all night.
Niu pillow case is made from Tencel Knitted Fabric. This material has good sweat absorption ability, creating a cool feeling, even on hot and muggy days. Besides, the pillowcase is also sewn with a hidden zip, making it easy to disassemble and clean, ensuring the pillow is always clean and clean.
Foam Hugging Pillow
Ru9 hug pillow is woven entirely from polyester material. This material is extremely soft, cool, does not cause irritation, allergies when in contact with the skin. In addition, the Ru9 hug pillow is also improved with a combination of foam and cotton particles, creating flexible movements, compatible with the body shape and usage of the user.
Ru9 hug pillow has the size of a real person, the weight of the pillow is moderate. When you hug, you will feel comfortable. In particular, the pillow is delicately designed to keep the abdomen warm, extremely suitable for people who have a habit of sleeping on their side.
Unique in design, safe in materials, Ru9 pillow understands all you need to get a good night's sleep. Therefore, please refer to the information and choose the right Ru9 pillow to accompany your sleep every night!
*** More information about Foam Pillow ***
APPLICATION OF FOAM TECHNOLOGY USED IN RU9 . Pillows
Solve all the problems of ordinary sleeping pillows
Graphene Memory Foam technology - breakthrough of the sleep industry
With the combination of outstanding advantages of two materials - Graphene and Foam, we have the most advanced material, providing optimal efficiency, thoroughly solving the problems of ordinary sleeping pillows.
Graphene Memory Foam helps release heat from the head to keep the head and neck cool.
Besides, it effectively relieves pressure, does not reverse every time you lie down, providing significant support and comfort.
Tencel shell - superior breathability
The tencel material also wicks away moisture and dries quickly, a great feature if you're prone to night sweats. At the same time, the Tencel cover of the foam pillow is durable and offers the softest experience.
Things you need to know about Ru9 Foam pillows:

Advantages
- The latest advancement in sleep technology - foam pillows offer comfort with advanced temperature regulation properties, while being highly resistant.
- Natural heat dissipation.
- Light weight and very flexible.
- Does not retain moisture to limit the growth of molds or harmful bacteria.
- Superior softness but does not cause your head to sink deeply, keeping your sleep wonderful.
- Outstanding pillow durability.
Sleeping position
Foam pillows are the perfect choice for any sleeping position on your side, stomach or back thanks to the appropriate support for the head - neck - shoulders.
Sensitive skin
With a combination of safe materials, Ru9 pillows are always safe for sensitive or easily irritated skin.
Injury or pain?
Those who are often active, or are being treated for diseases related to neck and shoulder pain syndrome, foam pillow is the most suitable choice to create the ideal support so that you wake up refreshed every time. and full of energy.
Defect
With perfect advantages thanks to the application of advanced technology, foam pillows almost solve all your sleep problems. Therefore, the main disadvantage is in terms of relatively high cost.
DIFFERENCE OF RU9 Pillows Compared to Ordinary Pillows
New pillow:
Standard altitude
Designed with the most standard height, perfectly suitable for sleeping so that the user does not feel too high or too low to provide a perfect experience when you lie down.
Super support, smooth head - neck - shoulders
A good pillow perfect for your sleep by its ability to adjust itself to hug the natural curve of the neck. The foam pillow core also helps to release pressure, not exerting the opposite force on the body when you lie down. Besides, the combination of durable Foam and Graphene contributes to a smooth and comfortable experience.
Keep your sleep cool
Exceptional heat release in the head - the hottest part of the body, Graphene integrated in the pillow will help all heat to be distributed to the sides, keeping the head and neck cool and comfortable.
Pillow:
Body compatible design:
With a size close to a real person, with a moderate weight so that when you hug, the Hug pillow will act with just enough force, giving the feeling of the most comfortable hug.
HOW TO CHOOSE A FOAM PILLOW THAT CANNOT IGNORE:
Material, substance
A suitable pillow will be a prerequisite for the quality of your sleep. Prioritize soft materials for a full night of relaxation!
Niu Pillow: With advanced Graphene Foam material (illustration of the material)
Hugging Pillow: With flexible foam and cotton (material image illustration)
Size
Size of Niu Pillow: 40 x 60 x 12cm
Size of Hugging Pillow: 22 x 115cm
Height and settlement of the pillow
A supportive pillow will hold your head and neck in place, instead of letting them sink into the mattress.
For Niu Pillow: has a height of 12cm, researched to best fit the Asian body. Besides, Graphene Memory Foam material does not collapse in the night, creating a sense of security, firmness and hugging your head - neck when you lie down.
For Hugging Pillow: the ideal height 22cm fits snugly in your lap for the most comfortable experience.
PILLOW CARE INSTRUCTIONS
For Niu Pillow: The Tencel Knitted Fabric pillowcase feels cool, the design comes with a hidden zipper for easy removal and washing.
For Hugging Pillow: Ru9 Hugging pillow cover is removable, very easy for you to wash and dry periodically. To keep the Ru9 Hug pillow clean for a long time, you should cover the Hug pillow with a regular pillowcase. Periodically every week, you should change this pillowcase to ensure hygiene. Please note that you should not wash the inner part of the pillow!
Review of Foam Pillow Ru9

Hai Tran: I'm always looking for a soft pillow for sleep, from the day I found out about Ru9 and bought a Niu pillow, it's really "honest" for soft sleep.
Nam Dang: Before, I didn't focus on choosing a pillow for sleep, but there was a time when I had neck and shoulder pain every morning when I woke up, so I decided to find the best pillow to end this situation. Having been introduced by a close friend to Ru9's foam pillow about my experience after a while, I bought the whole set of Good Night.
Mari Nguyen: Mari has a habit of hugging pillows while sleeping, so she always prefers soft, flexible pillows that are compatible with her body shape and different ways of hugging. Ru9 home pillow is the best choice!
Tran Tuan: If you are wondering or hesitating between pillow choices, don't hesitate to choose Ru9 foam pillow right away, you will fully enjoy the softness that a pillow brings for the best sleep!
FAQ
Can baking soda be used to clean my pillows?
First, remove the pillow from the pillowcase, take a clean cotton ball or clean cotton towel, dip it in a mixture of baking soda and water, then clean deep stains by dabbing on the surface of the pillow.
How often should I buy a new pillow?
The logical answer is that you should change your pillow every 1 to 2 years!
Most experts recommend replacing your pillow every 1 to 2 years. Doing so helps ensure that you are using a supportive pillow that is clean and free of allergens. It is important to take care of the pillows you use to ensure their longevity. In general, you should be able to tell when it's time to change your pillow.
What to do after buying a new pillow?
Use pillowcases to preserve your new pillow and prevent future problems like yellowing from sweat. Don't forget to wash your pillowcase regularly to keep your pillow clean and start enjoying a good night's sleep every day!
How do you know it's time to change a new pillow for yourself and your family?
Let's take a look at some signs that we need to change a new pillow immediately:
- The pillow has a bad smell
- Do you often wake up with a sneeze?
- Waking up every morning with neck and shoulder pain
- The pillow is seriously yellowed
How to disinfect your pillow effectively?
A great tip is that you can disinfect pillows by sprinkling borax on pillows because borax is an effective disinfectant, leave the powder on the pillow for about an hour, then gently vacuum with a vacuum cleaner.
Is Graphene Foam material friendly to our environment?
Graphene is considered to have great potential to become a highly sustainable material and can improve the sustainability of various industries. In recent years, it has been suggested that graphene is incorporated into various materials to make them more environmentally friendly.